When I was in the amateur and then the pro ranks, I always got a buzz from helping younger kids with worthwhile character building activities.
After I retired from the ring and decided to set up my own gym, one of the main reasons was to help disadvantaged children in my local community. By introducing them to the sport I love, my goal was introduce them to healthy and enjoyable exercise, keep them off the streets and give them something more meaningful to do besides playing video games.
So I established a social enterprise community interest company to fulfil this aim.
At the gym, we organise a wide range of activities to suit different needs from regular "public" sessions for private individuals to activities local mainstream schools and special needs settings right across Greater Manchester.
We cater for children who are disabled, non-disabled and those with learning difficulties. Here are 2 examples of the activities we provide.
Kid's Boxing Lessons – a unique and fun session for ages 4 years old to 10 years old. Kids learn the basic boxing stance, guard and basic shots as well as doing padwork.
Please see the videos to the right or scroll down on your phone to see some videos.
PLEASE NOTE:  A parent or authorised guardian must be in attendance at these sessions on Wednesdays at 5:30 pm. Strictly NO DROP offs allowed. Thank you.
Juniors Amateur Boxing – for young people ages 10-16 looking to box, sessions vary all the time, covering everything, running, sprints, sparring, padwork, circuit training and shadow boxing.
Sponsors – Blackpool
As you'd expect from an organisation working with vulnerable people, we comply with all relevant legal requirements for our service provision including DBS checks, insurance and health and safety provision.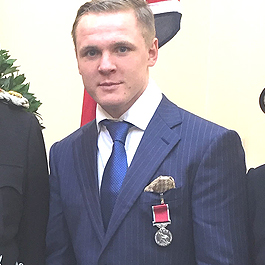 If you have an educational setting that you think may benefit from the kind of unique experience the People's Gym can provide, we would be delighted to chat to explore how we could add value to your activities.
Kieran Farrell BEM
PS – I was lucky enough to receive the British Empire Medal from the Queen for community work and services to boxing. http://www.skysports.com/boxing/news/12183/10310674/kieran-farrell-awarded-bem-in-queens-birthday-honours